This week in our CSA share we received OKRA.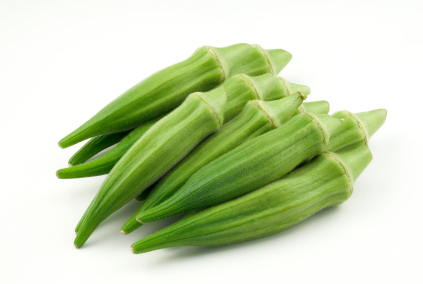 Many of us have only heard of
deep fried okra
but there are many other ways to use okra. Usually I dry mine in the dehydrator to use in minestrone soup during the winter.
This week I decided to try it RAW and I was pleasantly surprised. I received sweet corn from one of my CSA shares so I thought I'd sweeten the okra up a bit by adding the corn to it and here is what I came up with.
Okra Corn Salad
1-2 cups of tender okra sliced in 1/2 inch rounds
2 ears of sweet corn cut from cob
1 tomato diced
1 small sweet bell pepper diced
1 small onion diced
small handful of cilantro
lime juice
dash of sea salt (optional)
Mix together and marinate.
This salad is delightfully refreshing and delicious!
I have a picture I hope to post later.
Here is a
little nutritional info on Okra and a recipe.
This
link has an enormous amount of recipes
but I cannot recommend that they are healthy...but you can get some idea's and modify to make them low fat and healthy. You can also find health benefits of eating this unusual vegetable.
I have found OKRA to be a very beneficial food to add for good digestive health.
other ideas~
*add to stir fry
*add to soups
*dehydrate and add as a crunchy salad topping (season to taste before drying)
*add to (raw) green salads
*add to smoothies